The plate publicly expresses your belief in and loyalty to God. It encourages others to believe in Him. The plate revenue supports military servicemembers and their children, the children of policemen and firemen who have died in the line of duty, the teaching of God's importance in shaping our history, and other charities working smartly in these general subject areas.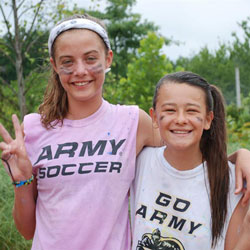 December 10, 2014: Your organization was privileged to make a $20,000 grant to Military Community Youth Ministries to provide educational weekly 90 minute meetings, retreats (approximately one per semester), special activity nights, lock-ins, ski trips, summer camps, and work service projects for military teens presently stationed with their United States military parents in Germany.
All of these activities are well chaperoned, and have high ratios of volunteer leaders for kids in attendance. The problems and struggles of military youth and teenagers are amplified because of their context.
Military installations are often isolated. Military teens are frequently uprooted from familiar settings and moved from one foreign country to the next with language, culture and customs they don't understand.
The intensified pace of military operations in the Middle East creates more frequent and longer parental absences from home and temporary single parent homes for the majority of military families for at least a third of each year. This program addresses that and helps provide a stable connection and continuity for these teens.