$5,000 In Stability and Guidance for Overseas Florida Military Youth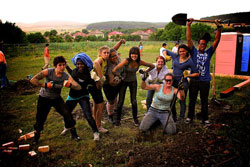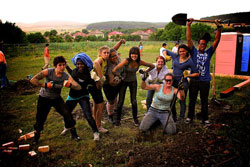 Geographically Allowed: This grant used pre-7-1-2014 funds, DMV counsel agreed, and it was approved in the subsequent annual audit report. This grant answered the critical need of Florida teenagers overseas with their deployed military parents, being relocated every several weeks or months and in great need of a recurring group program context to assure continuity and stability. Prior to 7-1-2014 Florida charities could follow their beneficiaries anywhere to meet their needs with the intended plate services. Sadly, in 2014 Rep. Jim Patronis did not believe Floridians could have any needs outside the boarders of their state and caused a change in the statute which limited Florida charities to using post 7-1-2014 specialty plate donations to address the needs of Floridians only within the geographic boundaries of Florida.
Rota, Spain, 12-30-2014 - Thanks to those who purchase Florida's In God We Trust specialty license plate, the Organization was able to give a $5,000 grant to provide educational weekly 90 minute meetings, retreats (approximately one per semester), special activity nights, lock-ins, ski trips, summer camps, and work service projects for Florida U.S. Military youth stationed near Rota Spain with their military parents.
This will benefit approximately 50 youth. All of these activities are well chaperoned, and have high ratios of volunteer leaders for kids in attendance. Military installations are often isolated, and military teens are frequently uprooted from familiar settings and moved from one foreign country to the next with language, culture and customs they don't understand.
This amplifies the problems and struggles of military youth and teenagers. And this grant though Military Community Youth Ministries will provide dependability and guided continuity for them in that environment.